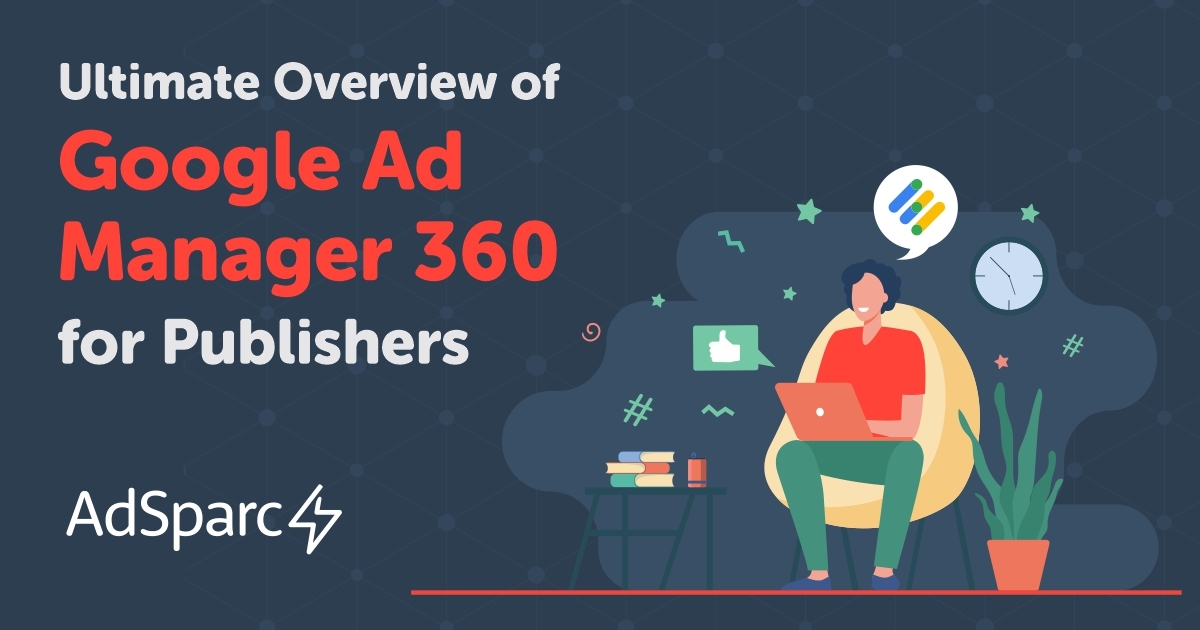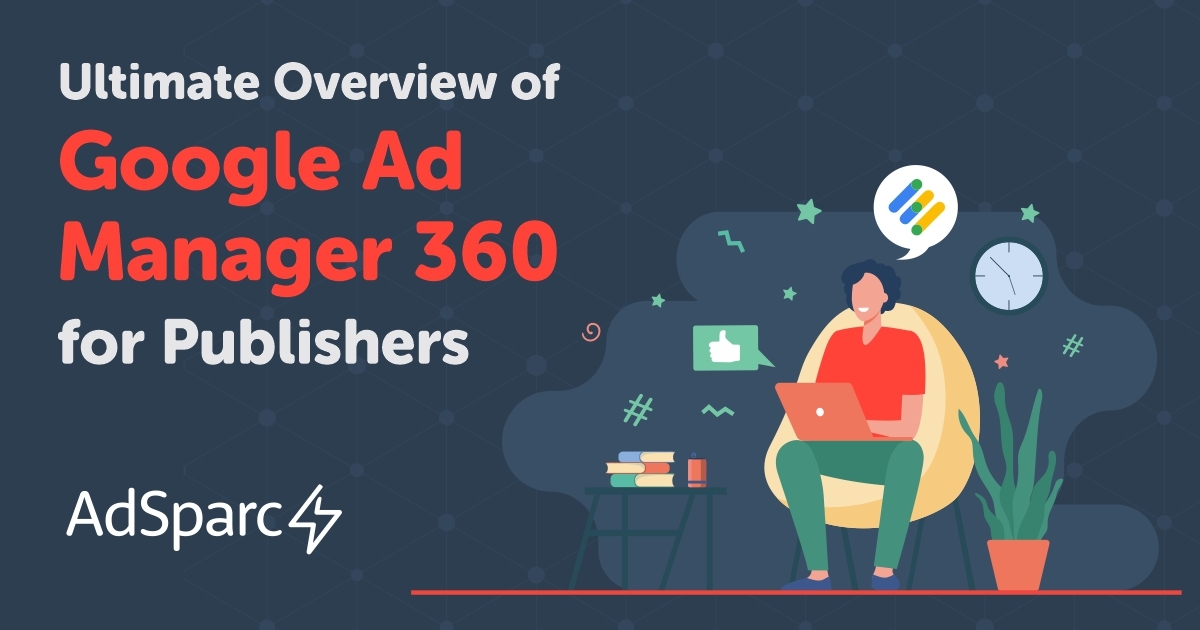 What's better? Google Ad Manager or Google Ad manager 360? As a contemporary publisher, looming queries may be popping instinctively. Questions like how Google Ad Manager is different from Google Ad Manager 360, what is GAM 360 or what is Google Ad Manager (DFP)? Or how to use DoubleClick for publishers? 
Multiple services, products, tools, solutions, and platforms get introduced by Google every year; it can be daunting at times for existing or newbie publishers. Nowadays, every publisher is asking, what's the next step or shift? Is it GAM or GAM 360? We are here with all the answers that will clarify all your doubts in a jiffy! An ultimate overview of Google Ad Manager 360 for Publishers.
Let's get started with some basic yet hard to define questions swiveling in front of the contemporary Publishers: 
What is GAM, a.k.a. Google Ad Manager?

What is Google Ad Manager (DFP) DoubleClick for Publishers?

What is GAM Google Apps?  

What is Google Ad Manager 360?

Features and Benefits GAM 360

Differences Between Google Ad Manager & Ad Manager 360 

How to get started?

What's new? 

What is GAM, a.k.a. Google Ad Manager?
First, try to understand "What is GAM?" Google GAM or Google Ad Manager is an inclusive ad management publisher platform devised to streamline ad delivery, reporting, and monetization. Google GAM is the combination of DoubleClick for Publishers and DoubleClick Ad Exchange. Google GAM is part ad-server and part Supply Side Platform (SSP), giving publishers a complete solo system to manage ad supply from direct sales, third-party ad exchanges, and Google's programmatic demand. GAM is a comprehensive platform to generate ad revenue and safeguard your brand wherever netizens are watching, playing, or engaging. Google GAM is a cloud solution; hence, no software download or installation process is required. From empowering publishers to improving revenue and safeguarding brand protection to promoting them from a centralized workflow, Google Ad Manager takes its product to the next level with GAM 360.
Google GAM brings exclusive advantageous values to the publishers: 
Inventory unification as a single unit of inventory 

Complete transparency across every sales channel 

A unified streamlined inventory creation and management workflow 

Simplified outcomes with higher revenue and more opportunities

More protection and safeguarded tools for publishers to obtain user consent

Funding Choices for User Consent includes desktop & non-AMP

Accessibility to consent component (AMP) and consent SDKs (App) 

Tools for publishers to control ads personalization
Before we jump into the core benefits and features of Google Ad Manager 360, let's take a worthwhile detour and explore some valuable insights on Google Ad Manager (DFP) Responsive Ads and another GAM by Google – GAM Google apps. 
What is Google Ad Manager (DFP) DoubleClick for Publishers? 
Nowadays, publishers usually see a significant part of traffic generated from mobile devices. They are jostling and trying to figure out improved ways to deliver a reliable and better ad experience across multiple devices. Hence, Google Ad Manager (formerly Google DFP) introduced DoubleClick for Publishers Responsive Ads that are adaptable to the size of the screen while they are viewed on multiple devices. DoubleClick for Publishers Responsive Ads gets rendered to ensure a seamless user experience across various devices, like desktop, mobile, or tablet. Google Ad Manager alters the size and appearance of an ad creative that can easily fit within the desired ad space of the device. A DoubleClick for Publishers Responsive Ads can be displayed as a dynamic text ad on a particular page and a native ad on another. The reason behind the sudden mention is that DoubleClick for Publishers Responsive Ads solves a lot of problems for publishers because the one-size-fits-all solution cannot fit in the ever-changing advertising industry. Ad units need to be adaptable and should fit the screen. 
What is GAM Google Apps? 
The "solution to all tags" also goes to GAM Google Apps as well! Google Apps Manager or Google Apps is a program that helps you manage common tasks for your Google Apps domain. GAM Google Apps is particularly supportive for running or generating large batches of commands that would be time-consuming if done manually. However, GAM is different from many Google Apps tools as it is not web-based. GAM Google Apps is a program you install on your desktop or laptop and then run via a command-line interface just like old school style. It is a command-line tool that permits administrators to accomplish and manage multiple aspects of their G Suite Account. 
Now, let's dive in and explore more about Google Ad Manager 360 or GAM 360: 
What is Google Ad Manager 360 (GAM 360)?
There are two versions of Ad Manager, which Google offers. First, "Google Ad Manager" is free to use up to 90 to 150 million ad impressions per month. Remember, the monthly impression limit depends on the geography. Second, a premium version of Ad Manager is called "Google Ad Manager 360". Google Ad Manager 360 is packed with several additional features. GAM 360 is a paid and premium version of GAM dedicated to the most significant publishers who surpassed the free monthly impression limit threshold. Publishers using GAM can serve up to 90 million impressions per month (the monthly limit threshold for various geographies mentioned below). But, once the limit exceeds, the publisher needs to pay to use GAM 360. Remember, the price always depends on the impression volume. 
Here's the overview of what these specific monthly impression thresholds look like: 
90 million for non-video ad units for Canada, the United States, Australia, and New Zealand

200 million for non-video ad units for countries within Europe and Asia that Google supports

150 million for non-video ad units and 800 thousand from video ad units for Canada, the United States, Australia, and New Zealand, and countries within Europe and Asia that Google supports
Google Ad Manager 360 provides several tools and capabilities suitable for small and medium-sized publishers regarding functionality. Google Ad Manager 360 is an enterprise solution that includes everything offered by GAM plus a few additional tools to help the most prominent publishers to succeed. You can also enjoy other features like direct support from Google, the ability to create first-party audience segments, and advanced video ad options. The Google Ad Manager 360 enables publishers to increase their revenue while ensuring brand protection — which is precisely what makes Google Ad Manager 360 a next-level monetization product. 
GAM 360 exclusive features include:
GAM 360 can run Cost per action & Viewable CPM campaigns 

Accessibility to Multi-currency where GAM 360 can sell inventory in more than one currency 

Exceptional Ad Units where 5 Levels of Ad Unit Hierarchy vs. two levels for the free Ad Manager

Advanced Video Options such as Podding, Dynamic Ad Insertion, and more are offered 

Additional Integrations includes Google Analytics 360 Audience & Reporting Integration, Data Studio Integration, and DMP Integration 

Get hands-on with Advanced Reporting that includes Conversion reporting, Future sell-through, Data Protection Report, and Data Transfer log files
Benefits of Having GAM 360 at your disposal:
1. Experience Advanced Reporting: Link GAM to Google Data Studio for enhanced visual reporting. Reporting becomes complex and challenging as the number of impressions grows. Publishers struggle for improved reporting systems in the face of intricate sell-cycles and ever-increasing line items. This is where google ad manager 360 steps in and allows publishers to link to Data Studio. This nexus transforms your data into useful reports and dashboards that are simple to read and share.  
Here is how you can link GAM to Google Data Studio in three easy steps:
Step 1: Enable Google Data Studio reporting for GAM
Step 2: Add user permissions to roles
Step 3: Add Ad Manager as a data source to Google Data Studio
Once you follow these three simple steps, the most used dimension and metrics from Ad Manager historical reports will appear in report type. These reports can be further simplified and shared with the team.
2. Hands-on Audience Solution: Audiences can be segmented depending on numerous demographics. Publishers can use Audience Solution to cluster audiences based on specific demographics and sell intently targeted inventory to advertisers by:
Correlating these segments with ad units, key values, and placements 

Setting additional attributes such as number, page views, or app activities 
3. Exclusive Teams feature for individuals: It is forming a team to streamline user management. Teams can be organized to limit user access to specific objects like advertisers, orders, ad units, agencies, proposals, and more. This function is specifically helpful for individuals who manage multiple firms in their Google Ad Manager 360 account, as it can support and protect client data and avoid confusion. 
4. Obtain access to Advanced Video Options: Advanced Video Options comprises Podding, Dynamic Ad Insertion, and more. Publishers can use GAM 360 to acquire advanced and improved video ad solutions. However, the exclusivity of these video ad selections may vary as per the type of GAM 360 account you have. Publishers with advanced GAM 360 get more access to video ad functionalities than GAM 360 publishers.  
Some key features that publishers get access to with GAM 360 are:
Get access to audience measurement tools 

Create video ad rules for defining how ads are being displayed within the video content 

Via dynamic ad insertion, publishers get access to server-side insertion of video ads 
Google Ad Manager vs. Google Ad Manager 360
Ad Manager creates a nexus with Google Analytics, AdSense, and Ad Exchange to deliver better end-to-end management. Here is how Google Ad Manager 360 levelled up its game:
| | | |
| --- | --- | --- |
| Parameters | GAM  | GAM 360 |
| Price  | Available for free | It is a paid version; the price differs as per the feature selection  |
| Impressions  | Up to 90 million monthly impressions (depends on geography) | Negotiation with Google based on average impressions and addon features |
| Features | Line-item management, historical data, customized reporting, and access to API  | Everything offered by GAM, along with customized features and direct Google support |
| Ad Formats | Responsive ads, native ads, and video ads | Formats accessible by GAM, plus in-banner video and rich media formats |
| Open Bidding | Not Supported  | Supported  |
| Private auctions, guaranteed Programmatic, and preferred deals  | Supported  | Supported  |
| Multiple currencies | No | Yes |

It's evident that GAM 360 has a lot to offer when managing ad inventories. Let's have more profound insights into some of the advanced features available in GAM 360 to show you the platform's unique capabilities. What makes GAM 360 amazing is its two main features — Open Bidding and Programmatic Guaranteed Deals. Open Bidding allows integration of other SSPs to GAM to compete with AdX and other price-priority line items in real-time S2S Bidding. Thereby increasing the competition and demand for your inventory. And Programmatic Guaranteed Deals provides publishers access to premium advertisers looking for high inventory volumes.
Despite it being a powerful tool, setting it up might take a while and cost you a significant amount of money. Read further to know how you can get started.
How to get started with GAM 360?
Accessing Google Ad Manager is free up to a limit. So, to start with GAM 360, you must cross over the free ad impression limits. Once this threshold is reached, Google will automatically start charging for the additional ad impressions. Then a Google Account Manager will contact you and will encourage you to sign-up for Ad Manager 360. Google uses different means such as e-mails, notifications in UI, and more, to contact or notify you about the payment. Once you get a notification, with the help of an Account Manager, you can enable the billing feature. 
You can capture all data related to the ad impressions via GAM reports, say Historical reports. With Historical reporting, you get access to AdSense impressions, Ad Exchange impressions, Invoiced impressions, Unfilled impressions, and Total impressions. And for reserved impressions, you can run GAM 360's Future Sell-through report. 
But an ad impression is not the only metric that decides whether you need to pay for GAM or not; all other system-level variables including, orders, line items, ad units, creatives, key values, and yield groups, are equally important. 
And for a publisher who doesn't serve minimum ad impressions (90 million per month), setting up a GAM 360 account with the help of a Google Certified Publishing Partner or MCM Partner can be beneficial. Since MCM is a native feature of GAM, adding all the powerful features of GAM 360 to your ad stack and accessing AdX will become easier. Learn more about Google MCM here.
Know that the final price of GAM 360 varies depending on your monthly impressions, the additional features you need, and the type of Google support you have chosen. And if you're accessing GAM through a GCPP or MCM partner, then the price will depend on the revenue share.
What's new?
Well, there's no doubt that Google has brought its product to the next stage with GAM 360. These were a few additional benefits of having Google Ad Manager 360. Seeing all these capabilities of GAM 360, we say it's worth investing in this premium version. However, it comes with hectic requirements for manpower and an in-depth understanding of the platform. It can be an intimidating task without any prior comprehensive knowledge. So, when it comes to getting started with GAM 360, we recommend going ahead with a Google MCM partner like AdSparc. We at AdSparc can further help you unlock the true potential of a Google Ad Manager 360 account and set up GAM 360 on your website. Let's GAM up your monetizing world with AdSparc!
Also Read: Google Publisher Tools: A Complete Guide