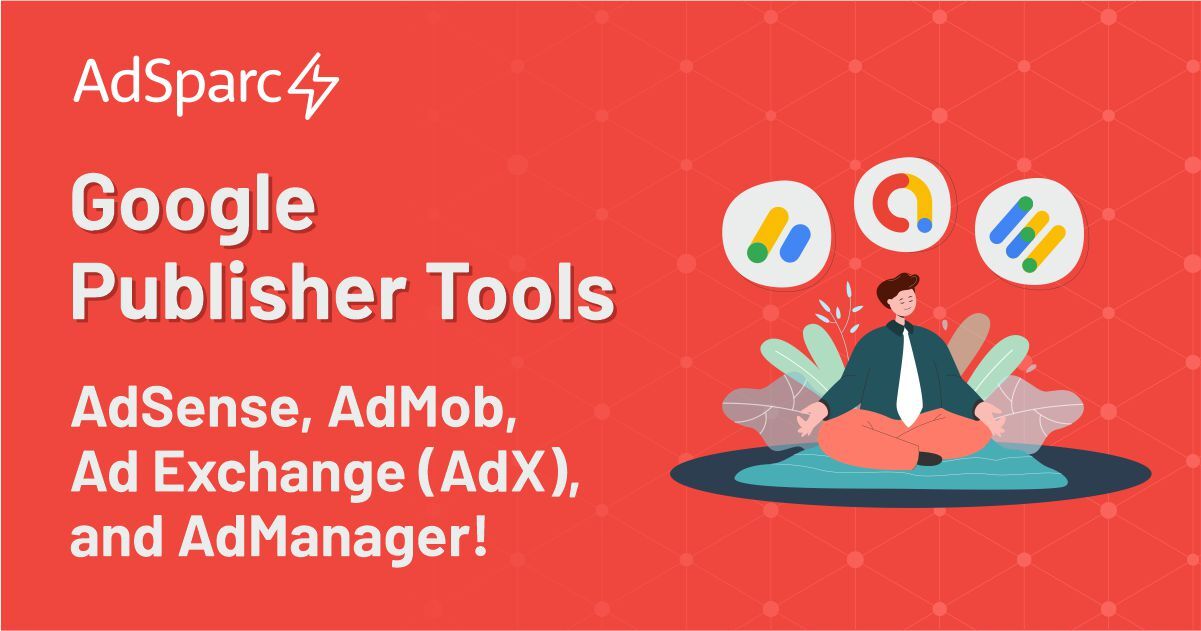 Today's booming programmatic world is as broad as it's long. Google always beats the clock and launches new Google publisher tools for your websites or apps. However, multiple options can lead to numerous misconceptions and underutilization. Let's debunk some common myths and misconceptions around Google's publisher solution products. 
Shall we start with the first myth? "Ad Manager serves higher quality ads," that's not true! Google AdSense, AdMob, and Ad Manager publishers have access to the same premium Authorised Buyers. Publishers can serve high-quality ads from all three platforms.   
The second highly prevailing myth is "Google ad manager 360 is a premium version of AdSense", again, not true! GAM is an entirely different product from AdSense and AdMob. GAM is a unified platform with granular inventory controls that allow publishers to manage direct sales, third-party networks, and programmatic demand. Google ad manager 360 is the premium version of Google Ad Manager (GAM).  
Google offers publishers a comprehensive suite of Google publisher tools designed to help them get the most out of their website. The plethora includes tools to help them monetize the content to measure and improve their website's performance. Ultimately, you want to get more bounce for the ounce as a publisher, right?  
Here's our blog that will give you a clear explanation of each Google publisher tool and provide you a quick guide on how to get the most out of your monetization setup.  
What is Google Ad Manager? 

What is Google Ad Manager 360?

What is Google AdMob?

What is Google AdSense? 

What is Google Ad Exchange?

Comparison between Ad manager, AdMob, AdSense, and Ad Exchange (AdX) 

What's better for the Publishers? AdSense or AdX? 
What is Google Ad Manager?
Google Ad Manager, a.k.a. GAM, is a publisher monetization platform from Google. It is part ad-server and part Supply Side Platform (SSP), giving publishers a complete solo system to administer ad supply from direct sales, third-party ad exchanges, and Google's programmatic demand. GAM is a comprehensive platform to thrive ad revenue and safeguard your brand wherever netizens are watching, playing, or engaging. It is a cloud solution; hence, no software download or installation process is required. Everything is managed via the online interface at https://admanager.google.com/home/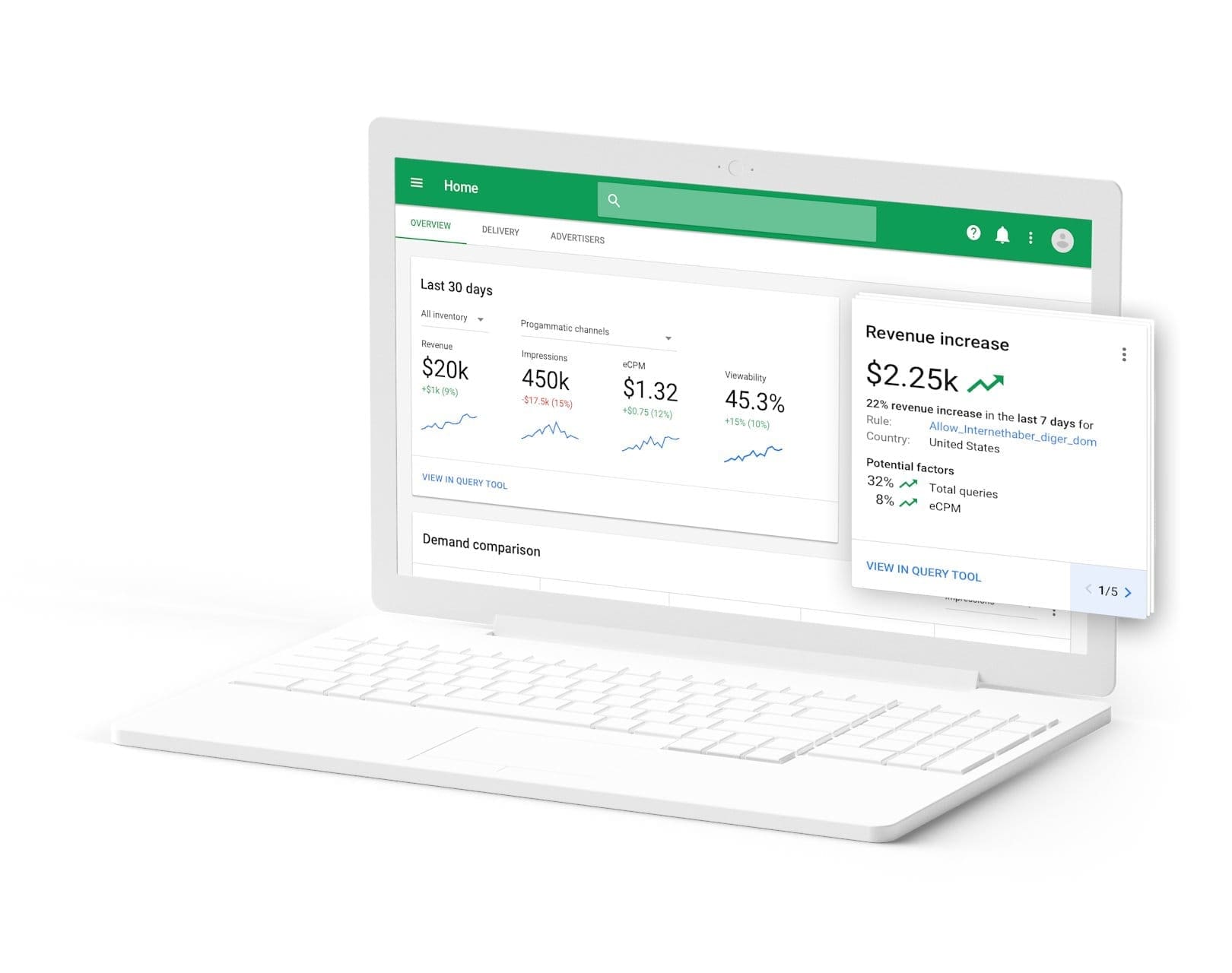 Source: Google Ad Manager
Google Ad Manager amalgamates two distinct products: DoubleClick for Publishers (the ad server) and the DoubleClick Ad Exchange (SSP). These two products were merged under the new name in 2018. While it is often seen as the Google AdSense alternative, GAM executes a lot more functions than just being an ad network like AdSense or treated as a Google AdSense replacement. If you are a newbie, you should check out the AdManager tutorial and get an overview of Ad Manager. Admanager tutorial will guide you to understand better about the functionality of Admanager. GAM provides granular controls and supports multiple ad exchanges and networks, including AdSense, Ad Exchange, third-party networks, and third-party exchanges.
Ad Manager is for you if you need:
A central place to monetize all of your inventory types (websites, mobile apps, videos, or games)

To manage a significant amount of ad revenue that comes through direct deals from buyers

To use third-party networks to compete for ad inventory

More complex reports to gain granular insights
What is Google Ad Manager 360?
There are two versions of Ad Manager, which Google offers. First, "Google Ad Manager" is free to use up to 90 to 150 million ad impressions per month. Remember, the monthly impression limit depends on the geography. Second, a premium version of Ad Manager is called "Google Ad Manager 360". Google Ad Manager 360, one of the Google Publisher Tools is packed with several additional features. Google Ad Manager 360 is a paid and premium version of Google Ad Manager dedicated to the most significant publishers who have crossed the free monthly impression limit. Publishers using Google Ad Manager can serve up to 90 million impressions per month (the monthly limit threshold for different geographies is provided below). But, once the limit is exceeded, publishers must pay to use Google Ad Manager 360. The price is dependent on the impression volume. 
Here's the overview of what these specific monthly impression thresholds look like on Google Ad Manager 360:
90 million for non-video ad units for Canada, the United States, Australia, and New Zealand

200 million for non-video ad units for countries within Europe and Asia that Google supports

150 million for non-video ad units and 800 thousand from video ad units for Canada, the United States, Australia, and New Zealand, and countries within Europe and Asia that Google supports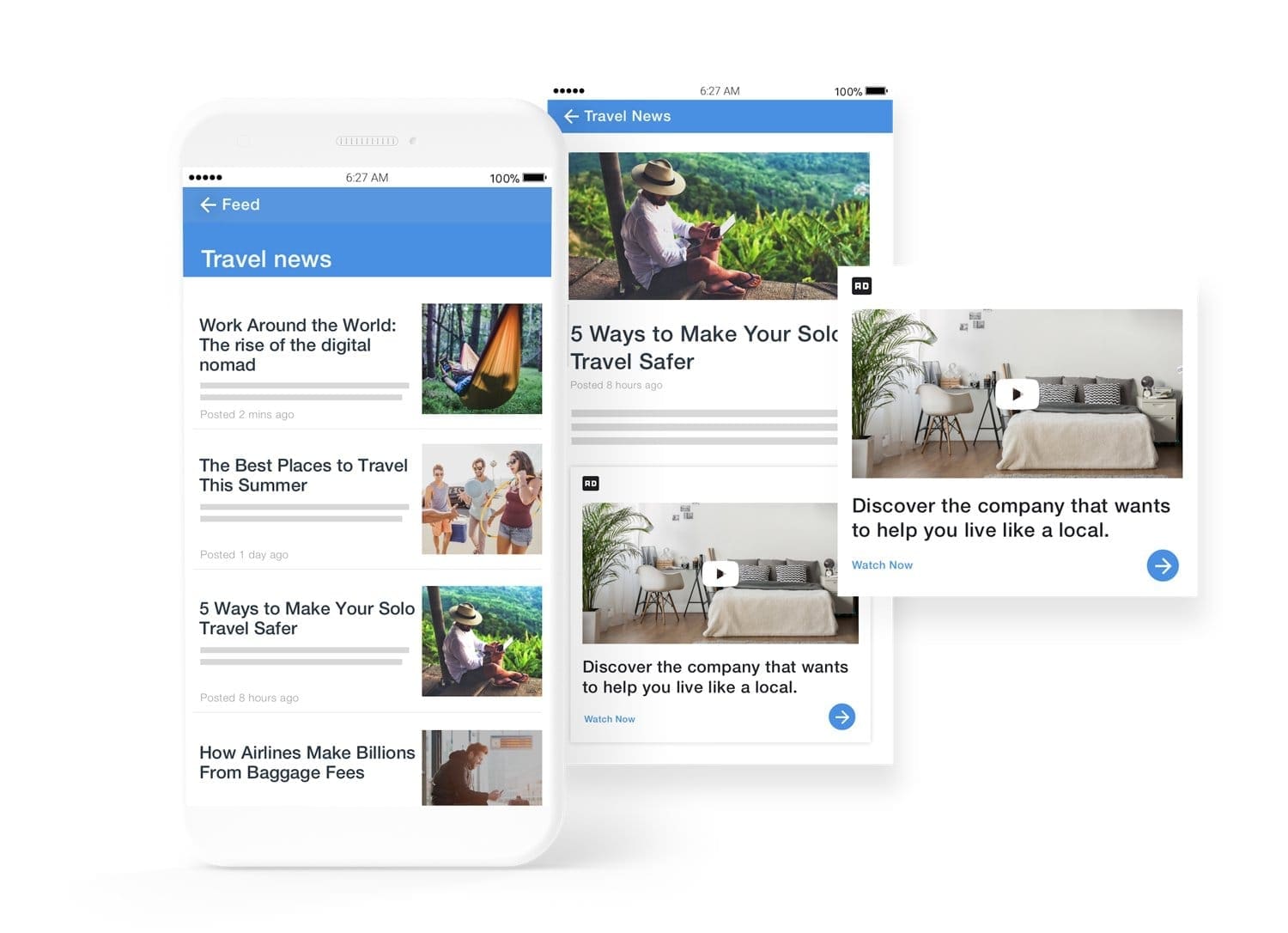 Source: https://admanager.google.com/home/partner-solutions/
Google Ad Manager 360 provides several tools and capabilities suitable for small and medium-sized publishers when it comes to functionality. Google Ad Manager 360 is an enterprise solution that includes everything offered by GAM plus a few additional tools to help the most prominent publishers to succeed. You can also enjoy other features like direct support from Google, the ability to create first-party audience segments and advanced video ad options. The Google Ad Manager 360 enables publishers to increase their revenue while ensuring brand protection — which is precisely what makes Google Ad Manager 360 a next-level monetization product. 
Google Ad Manager 360 vs Google Ad Manager 
Ad Manager creates a nexus with Google Analytics, AdSense, and Ad Exchange to deliver better end-to-end management. Here is how Google Ad manager 360 leveled up its game:
| | | |
| --- | --- | --- |
| Parameters | GAM  | GAM 360 |
| Price  | Available for free | It is a paid version; the price differs as per the feature selection  |
| Impressions  | Up to 90 million monthly impressions (depends on geography) | Negotiation with Google based on average impressions and addon features |
| Features | Line-item management, historical data, customized reporting, and access to API  | Everything offered by GAM, along with customized features and direct Google support |
| Ad Formats | Responsive ads, native ads, and video ads | Formats accessible by GAM, plus in-banner video and rich media formats |
| Open Bidding | Not Supported  | Supported  |
| Private auctions, guaranteed Programmatic, and preferred deals  | Supported  | Supported  |
| Multiple currencies | No | Yes |
What is Google AdMob?
AdMob is an advertising platform from Google for promoting and monetizing mobile applications. AdMob practically makes it easy for mobile developers to earn money from their mobile apps with high-quality ads. In simple terms, it acts as a revenue genie to the mobile app developers. AdMob maximizes the value of every impression by combining global advertiser demand, innovative ad formats, and advanced app monetization technology. It works best by matching ads to your app based on the criteria you set. What is an AdMob alternative? Every great product has a strong contender. The same law applies to AdMob! There is an Admob alternative available, and you can check out the comparison amongst the AdMob alternatives. 
Ad formats available under AdMob: 
By allowing publishers to control the deliverability of suitable ads to the right users at the right time, AdMob provides freedom to publishers while monetizing the app. It offers a wide range of formats: 
Rewarded:

Ads that users can choose to engage with in exchange for in-app rewards, like bonus points or an extra "life" in a game 

Native:

Customized ads that look and feel like a natural part of your app 

Banner:

Rectangular ads that can be anchored to the top or bottom of the screen 
Interstitial: Static or video ads that can appear at natural breaks or transition points, creating engaging brand experiences without disrupting the app experience
Source: https://admob.google.com/home/admob-advantage/
AdMob test ads: AdMob test ads are a crucial part of your app development. Testing that your ads are implemented correctly is important. Remember, during app development and testing, use demo ads or test devices to verify your implementation code without violating AdMob policy. Now, let's talk about Admob vs AdSense!
Admob vs AdSense: One major confusion that publishers have is how AdMob is different from Google AdSense? Which one is better for monetizing mobile apps? Admob vs AdSense! Google AdSense and Google AdMob can be predominantly categorized as "Advertising" tools. Now let's dive in and check out the contest of strength between AdMob vs AdSense here: 
 

AdSense 
AdMob

Who is it for?

AdSense is for Bloggers and Vloggers

Admob is for app developers.

Acceptance 

You need to put 10 to 15 articles, plus, good blog design or, in the case of YouTube, you need to get into the YouTube partner program.

Real-time 

Revenue Share Percentage

For the display content advertisements, the publishers get 68% of the revenue. 

 

For search, the revenue shared with the publishers is 51%. 

A high revenue sharing ratio of 60:40. 60% of the generated revenue is shared with the publisher and the rest, 40%, remains with Google.

Publisher List

It is used by a large number of companies throughout the globe.

Top app developers around the world use the platform.

Ad Quality

It displays high-quality advertisements and banner ads on a CPC offer.

It displays mobile app monetization advertisements on CPC and CPM offer. Supports cross-platform monetization (Android, iOS, and Windows). 

 

Publishers can customize text ad units with specific colors and fonts in order to maximize visibility and click rates.

CPM rate 

Lower 

Higher 
AdMob is for you if you need:
Access to high-performing mobile app ad formats with solid controls for brand safety

A solution to help you maximize ad revenue across Google and third-party networks with waterfall mediation and bidding

A holistic view of ads performance and user engagement with Google Analytics for Firebase

Automated tools to streamline your day-to-day tasks with features such as Ad Network Optimization

A solution to balance in-app purchase and ads-based revenue streams based on user behavior with smart segmentation
What is Google AdSense? 
After AdMob vs AdSense, let's jump in for more insights on Google AdSense! The expedition of nearly every web publisher on this planet starts with Google AdSense; it is "an oldie but a goodie!" It is a free ad network and was launched in the year 2003 by Google. Numerous small and medium publishers are still using Google AdSense to monetize their traffic. AdSense supports display, text, video, and interactive ad formats. It offers an excellent opportunity for web admins and site owners to monetize their traffic — every year, Google pays over $10 billion to its publishers. The simplicity of AdSense often creates the pivotal first stage in any publishers' monetization journey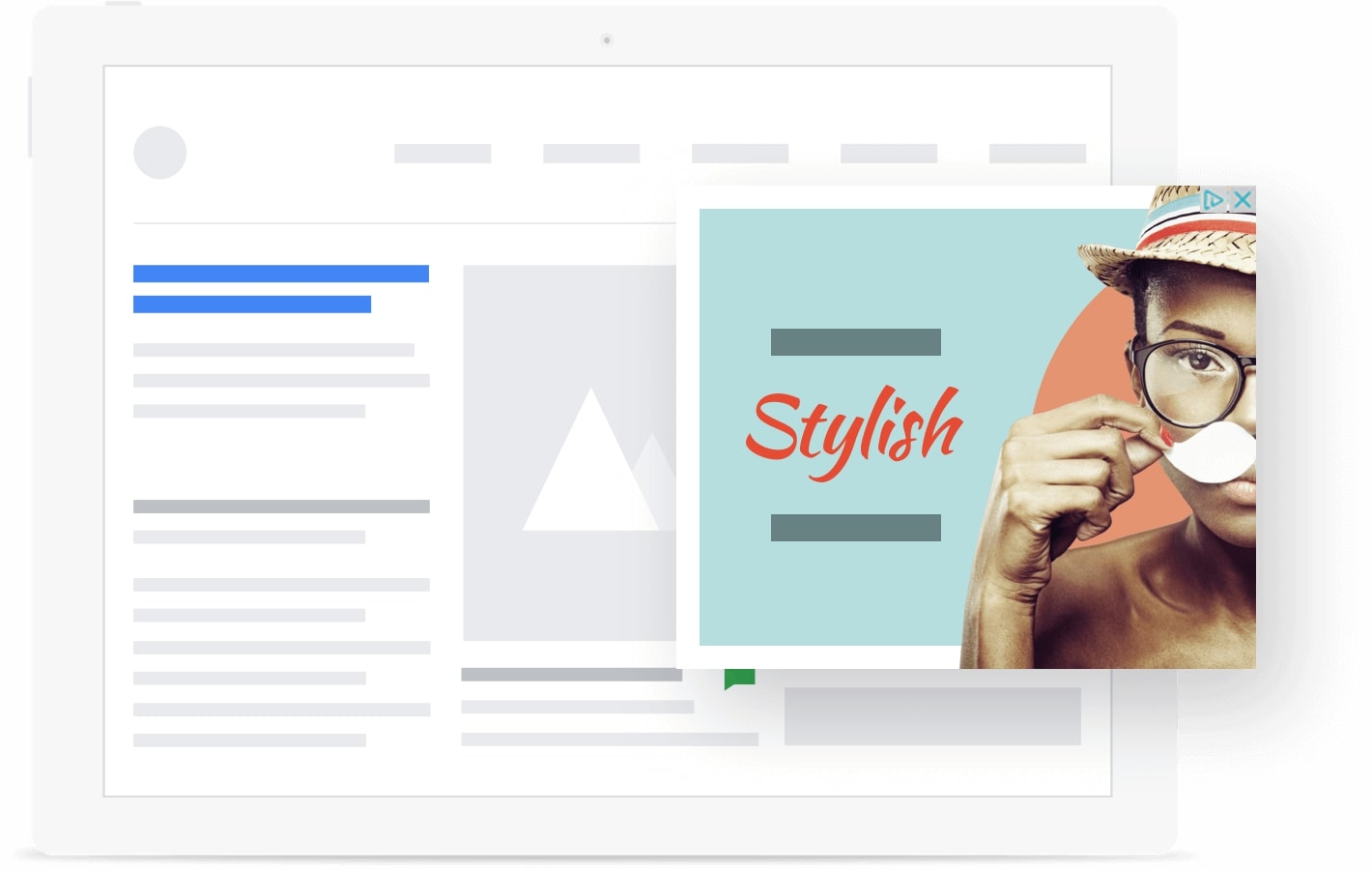 Source: https://www.google.com/intl/en_in/adsense/start/solutions/?utm_campaign=admanager.google.com%2Fhome%2F
AdSense acts as an ad network, offering access to demand from advertisers and assisting you in setting up your ad inventory. AdSense is best for publishers aiming for more automation for their ad solutions and has a small yet dedicated ad management team. Publishers can earn ad revenue from their content on a cost-per-click (CPC) basis. Ads can be targeted to the website demographically, contextually, or an advertiser specified placement preference in their targeting choices. However, we can see a shift towards Google AdSense replacement amongst the publishers, an inclination towards Google AdSense alternatives. They are searching for better Google AdSense replacement or Google AdSense alternatives. 
AdSense is for you if you need:
A place to monetize your website—blogs, forums, and online services 

A fast way to implement ad delivery

Google to optimize your ad inventory for you and maximize your revenue via Auto Ads

Accessible performance reports
What is Google Ad Exchange?
The origin of Google Ad Exchange (AdX) lies in DoubleClick Ad Exchange, a company founded in 1996 as an ad server. It was later acquired by Google in 2008. However, the takeover was controversial as it raised red flags on Google's dominant control over online advertising. Earlier, AdX and DoubleClick used to be two separate products. However, they rebranded in June 2018. Ad Exchange or AdX is Google's premium ad monetization platform, better known as an open marketplace for exchanging impressions. Via Google AdX, publishers can sell their ad inventory to advertisers and agencies using real-time bidding technology. Prices are set in a real-time auction; it enables display ads and effectively allots ad space across the web.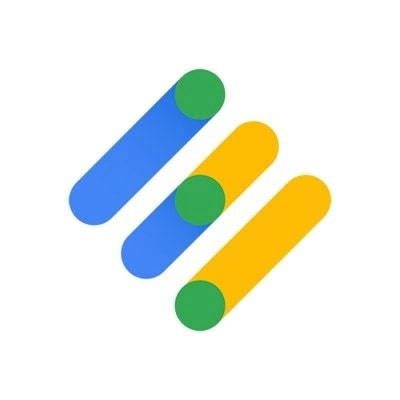 Source: https://www.adsparc.com/publishers/google-adx/
On one hand, sellers can make the most money for their ad space and get access to more advertisers while still controlling who can advertise on their site. On the other hand, buyers get access to numerous websites and ad space, plus they have more control over running their ads. Google Ad Exchange is designed to deliver publishers with high-traffic websites with more control, allowing them to optimize their ad setup. 
AdX is a premium feature within Google Ad Manager; it is exclusive to those invited or who work with a Network Partner Manager, like AdSparc. 
Ad Exchange (AdX) is for you if you need:
Real-Time Bidding (RTB) at the Core

Private Auctions 

Preferred Deals 

Increased Competition, Higher Revenue

Preferable for Publishers with a high number of Page Views
Comparison between Ad manager, Admob, AdSense, and Ad Exchange (AdX) 
 

Google Ad Manager

Google AdSense

Google AdX

Google AdMob

Inventory Types

Web + App

Web

Web + App

App

Access to other ad networks

Yes

No

Yes

Yes

Just tag pages to see ads

Yes, if AdSense is allowed to show ads through Ad Manager

Yes

N/A

N/A

Reporting Across All Ad Serving Activities

Yes

N/A

Yes

Yes

Google manages payments and billing

Yes,

for Open Bidding, Programmatic Direct, and Authorized Buyers. 

No for traditionally negotiated campaigns.

Yes

Yes

Yes,

for AdMob Ad Network.

No for AdMob Ad Platform.
What's better for the Publishers? AdSense or AdX? 
Now let's talk about the elephant in the room, "AdSense or AdX – Which one is more beneficial for the publisher?" "Is there any Google AdSense replacement or Google AdSense alternatives available?" Google AdExchange (AdX) and Google AdSense are both advertising services controlled by Google. They both allow publishers to earn money by running advertisements. However, the search for Google AdSense alternatives is on the rise. Publishers considering an upgrade from AdSense to Header Bidding with Ad Exchange will precisely want to know whether they will earn more or not. Merging Header Bidding with Ad Exchange (maybe Open Bidding too) is the optimum setup in most circumstances. However, that doesn't mean that it is always a better choice than AdSense.
So, what's the fuss about AdX vs AdSense? Header bidding or AdSense? Which platform is better for your ad inventory? The best reply for which network is better ultimately depends on the budget and competencies of a company.
On one hand, AdSense permits lower budget advertisers and multiple opportunities for all websites to earn more profit by displaying ads on the site with slight to zero experience. AdX, on the other hand, is more exclusive and complex, and needs skilled management; however, it has an extensive inventory with greater control. So, when we refer to Google Adx mobile or desktop, it can be for desktop or mobile versions of the website. Google Ad Exchange supports desktop, mobile web, video, and mobile apps with multiple features. Google Adx mobile or desktop encourages product features like Banners and Video for desktop, mobile web, video, and mobile apps. Google Adx mobile or desktop allows native display using Android and iOS app code and native display using "Guided design editor" or "HTML & CSS editor." Google Adx mobile web or desktop also supports Native video using "Guided design editor" or "HTML & CSS editor." Google Adx mobile web and desktop also counts how many impressions were measured by Active View and counts how many impressions can be measured by Active View.  
Generally, as Google AdX provides better targeting and attribution options to advertisers, big advertisers with big budgets prefer to create digital advertising campaigns on Google AdX premium platform than Google Ads. And that's why Google AdX eCPMs are generally higher than AdSense eCPMs. 
AdSense vs Google AdX
In most markets, advertisers buy more than 70% of the display and video demand through the Google stack. As a publisher, it is therefore critical to fully optimize your Google demand. AdSense is a great entry product, but there are better options as your visitor numbers rise; here comes the Google AdX. 
The Google Ad Exchange (AdX) was built to connect big brand advertisers and premium publishers in real-time. It has grown to be the leading global Real-Time Bidding marketplace for premium advertisers. AdX is the center of Real-Time bidding and offers advertisers a rich portfolio of features. The AdX demand offers higher eCPMs and better-quality ads to publishers. Publishers can expect to earn up to 30% more revenue via AdX compared to AdSense!
Why do you need AdX?
The key reasons to add AdX is to increase your revenue and improve the quality of the ads over AdSense. 
As a publisher, you can set minimum charges for multiple ad positions on your site 

AdX offers Preferred Deals 

Private Auctions where you can invite a set/bunch of buyers to bid on your desired inventory through an auction

Publishers can set different costs for various sections of their website.
How To Get AdX? 
Unless you have over 5 million unique visitors per month, you won't be able to sign up to AdX directly. Google uses trusted partners to allow access to AdX by sites that don't meet the volume requirements. AdSparc is one of those trusted partners and can unlock the Google AdX demand for your site.
AdSparc will manage the Google application process for you and, in the process, provide guidance and direction. Once you will be live, AdSparc will continuously optimize the AdX demand to maximize your return. As an AdSparc client, you can benefit from many other AdSparc products to further boost your revenue.
If you consider monetizing your website with Google Publisher Tools and have good traffic, but you are still wondering which way to go – get in touch with us. AdSparc's knowledge, programmatic understanding, experience, and advanced technology can connect you not only to Google Adx but also to other SSPs to maximize your ad revenue. Let's get started! 
Also Read: AMP Monetization for Publishers: Challenges and Solution